Concrete Demolition Hammer
For Legal Requirements See: OSHA Requirements
For further support, please contact us directly at 1-888-862-5356.
Fans for air make up and exhaust are quite often a difficult product to find when designing a simple ducted local exhaust system. Here we offer a variety of "LEV" (Local Exhaust & Ventilation) fans specifically designed to meet the demands of such systems. These Fans are able to handle specific applications such as: - Corrosive Fumes - Abrasive Dusts - Proper Flow and Static Pressure for a particular application.

Please feel free to contact one of our System Design Technicians for help in selecting the right fan for your application.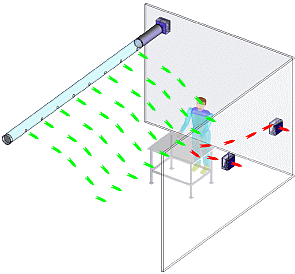 Industrial Hose & Duct Work
Lev-Co offers a wide variety of lightweight, flexible, abrasive resistant, heat tolerant, innovative technical hoses to provide solutions for a wide range of industrial & Automotive applications. Here are some general design velocities when using "CAPTURE" Hoods:

Smoke (e.g. Welding):
Capture Velocity 100 FPM
Transport Velocity 3000 FPM
Minimun Face velocity 2355 FPM

Dust (e.g. Grinding):
Capture Velocity 500 FPM
Transport Velocity 4000 FPM
Minimun Face Velocity 4000 FPM

Gas (e.g. V.O.C.'s):
Capture Velocity 50 FPM
Transport Velocity 2000 FPM
Minimun Face Velocity 785 FPM

Mist:
Capture Velocity 100 FPM
Transport Velocity 2250 FPM
Minimun Face Velocity 1766 FPM

FOR MORE SUPPORT IN SELECTING THE RIGHT HOSE pls EMAIL us with details on your application at: sales@lev-co.com