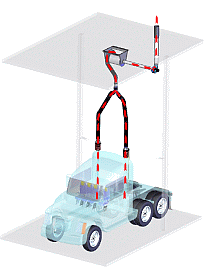 Vehicle Exhaust systems
1. What is it?
Vehicle exhaust produces harmful carbon emissions. When engines are operated indoors, the risk of consuming those emissions is very high without an extraction solution.

We offer a range of products that offer capture-at-source extraction to minimize the risk often posed by mechanics shops and diesel garages. Our systems are designed to clamp directly to the exhaust system of any vehicle, removing the risk of injury or fire related to the heat of the vehicle exhaust system.
3. Will it make my workplace safer?
This solution can make the workplace safer by capturing the toxic emissions at the source.
This process involves 3 steps:
1. Capture of the gases at source through suction nozzles
2. Transporting the gases through exhaust hoses to an exhaust fan
3. Transport the gases to the atmosphere.
4. Suitable industries & environments
Suitable industries include automotive, mining, and transportation.
5. Available models and variants
For a list of available models, check out our catalog below.
6. Configuration selection criteria
Below is a list of the information that needs to be gathered prior to selecting the appropriate VEHICLE EXHAUST ventilation system:
1 – Max Engine HP/RPM: How much pressure does your exhaust system produce at idle?
2 – Engine being run A - under load? or B - at idle?
3 – Diameter of smallest and largest tailpipes? Do you require multiple fitments?
4 – Configuration of tailpipes? (EG: are they exposed, behind a grill, overhead stack, undercarriage, etc…)
5 – Voltage and Amperage available
6 – Fixed or Portable system
7. Preventing the spread of airborne fumes and chemicals
Industrial workers are exposed to a variety of health hazards every day. As a result, these workers risk becoming ill, ill, and disabled. According to a WHO study (WHO, 2000), unintentional poisonings led to 300 000 deaths in 2000.
The goal is to reduce that number, but it can only be accomplished if the correct equipment is used, and it is configured correctly. In order to make the logistics of those questions as straightforward and cogent as possible, our team will work with you to provide the best extraction system that fits your worker's needs. This includes everything from accessibility and usability to longevity and reliability.
You can read more about the risks and preventions of fume extraction below:
OSHA
WHO