Paper and Leather Manufacturing - Leather Tanning
Here are method(s) that control the emissions generated from the Leather Tanning process.

Click on the preferred Control Method to learn more about:
Budgetary costs (Do you own quote)
Codes that are relevant to this control method
Dimensional Data
Equipment in use
Installation examples
Videos
Owners manuals
Brochures
For further support, please contact us directly at 1-888-862-5356.
Industrial Hose & Duct Work
Lev-Co offers a wide variety of lightweight, flexible, abrasive resistant, heat tolerant, innovative technical hoses to provide solutions for a wide range of industrial & Automotive applications. Here are some general design velocities when using "CAPTURE" Hoods:

Smoke (e.g. Welding):
Capture Velocity 100 FPM
Transport Velocity 3000 FPM
Minimun Face velocity 2355 FPM

Dust (e.g. Grinding):
Capture Velocity 500 FPM
Transport Velocity 4000 FPM
Minimun Face Velocity 4000 FPM

Gas (e.g. V.O.C.'s):
Capture Velocity 50 FPM
Transport Velocity 2000 FPM
Minimun Face Velocity 785 FPM

Mist:
Capture Velocity 100 FPM
Transport Velocity 2250 FPM
Minimun Face Velocity 1766 FPM

FOR MORE SUPPORT IN SELECTING THE RIGHT HOSE pls EMAIL us with details on your application at: sales@lev-co.com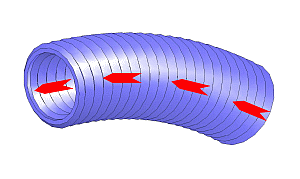 Vehicle Exhaust - Cars, Trucks, Heavy Equipment & Generators
Learn More About our Portable Vehicle Exhaust on our New "Product Niche" Website
The best way to protect mechanics and garage employees from harmful gases released from automotive vehicles such as cars & trucks is CAPTURE AT SOURCE. This means directly at the tailpipe.
This process involves 3 steps:
1. Capture of the gases at source through suction nozzles
2. Transporting the gases through exhaust hoses to an exhaust fan
3. Transport the gases to atmosphere.

Below is a list of the information that needs to be gathered prior to selecting the appropriate VEHICLE EXHAUST ventilation system:
1 – Max Engine HP
2 – Max RPM engines to be run at:
3 – Engine being run A - under load? or B - at idle?
4 – Diameter of smallest and largest tailpipes?
5 – Configuration of tailpipes? (EG: are they exposed, behind a grill, overhead stack, under carriage, etc…)
6 – Voltage and Amperage available
7 – Fixed or Portable system