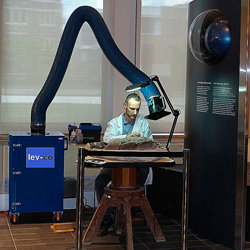 WHO WE ARE
Lev-co, also known as the Local Exhaust & Ventilation Company, is a team of highly skilled and motivated and caring individuals working in the specialized field of "Industrial or Process Ventilation.
We specialize in workplace environments such as commercial, industrial, institutional, etc. and look to make a difference in this world by helping people breathe cleaner air.
VISION
Lev-Co will offer REAL clean air solutions by coupling its assets of
EXPERT PEOPLE
, its
EXPERT SYSTEM
, and enabling its team to design systems that meet the needs of all stakeholders.
MISSION
Lev-co, founded in 1998 with the mission to help workers of the world breathe clean air.
We do this by providing clients with the advice, knowledge, design engineering, and equipment selection required to ensure clean air in the workplace is selected in a profitable and sustainable manner.
HIERARCHY OF CONTROLS
Our design method is based on the hierarchy of controls. We first counsel the client to take the first of two steps; elimination and substitution.
If those are not possible, we support them in their journey to find the proper engineering controls that will capture, receive, contain, or relocate airborne contaminant at the source so the contaminants do not enter the worker's breathing zone.
Whenever possible, the goal is for the airborne contaminant to not mix with the workplace air in which it can be passed from one worker to another. In this case, Sharing is not caring. 😊
In the past, dilution ventilation was often considered the "solution to pollution" however, in 1972, most countries adopted more energy-efficient methods, moving us from dilution ventilation to Localized Ventilation meant to capture the respirable aerosols before they had a chance to propagate into the workspace and/or breathing zone.
LEV-CO – The air quality equation
Our people… Warren Buffet once said business is simple "just delight the customer" While our team won't delight you by "telling you what you want to hear," you can count on them to delight you by being polite, responsive, caring, detailed. A teammate that you can count on and trust to help you improve your life quality through the quality of the air you breathe.
Educated… you can count on an engineering team that is well educated and understand the importance of staying on top of their game.
Tools for end-user… Whether you are an Industrial Hygienist, Engineer, Plant manager, member of the JHSC, etc., we pride ourselves on building common sense education tools that help you understand, budget, select and purchase solutions that will help your team breathe clean air.
Experience… 22 years ago, we created the "expert system" this system has recorded every single quote, sale, comment, etc. all of this knowledge is available for your benefit.
MOST IMPORTANTLY, we listen: one of our core principles is to listen. We know how to move air better than any team, but what we don't know is your team's criteria. You can design the best capture and filtration system, but if it does not meet all stakeholders' criteria, the chances are high that the system will not be used. We consider that a total failure, and we don't like to fail!

Here is a list of stakeholders:

Employees and their families
Industrial hygienists
HR personnel
EHS team
Environmental ISO 14000 personnel
Mechanical engineers
Architects - design
Chemical engineers
Maintenance managers
Production managers
Facilities groups
Financial teams
Electrical engineers and electricians
Sheetmetal trades
Millwrights
Structural engineers
Project managers



Free Budgetary Estimates

Establishing a budget can be time-consuming. Typically, you need to call a company like ourselves, hopefully, talk to an SME, and if he or she is not backlogged with tons of quotes (as the good ones are), you have to wait a few days or weeks for a price.

This is where our website comes in, with our built-in INSTANT "Build & Price" system.

You can browse our 30,000 products by

Industry
Process
Engineering control method
"Old School" catalogue
And coming soon, Airborne contaminant (AKA the problem, e.g., Covid-19, welding Fume, etc.)



Experience: Our engineers can draw from 22 years of designs, quotes, and projects, a library of impressive archived data and engineering support.
Performance Guarantee: We were the first to offer a performance guarantee, and from what I understand, we are still the only company that continues to offer this. I feel this is a crucial component of any purchase in our field. All parties should agree on the quantitative measurements and stick to them. (EG: 0.5 MG/m3H, flowrate, etc.).
Increasing productivity
Good things happen when people feel they are valued and when the air is clean, studies show
productivity increases
by up to 10% and sick days drop drastically. No matter what type of facility, our goal is to support your team to have clean air solutions that help your employees stay healthy and reach their highest potential.
We are committed to making sure our customers and their employees realize a healthy, clean air working environment.
We build "win-win" solutions & relationships
Lev-co is challenged by competing stakeholder criteria. Acquiring all stakeholder's criteria is crucial when it comes to designing ventilation systems for health and productivity. Unfortunately, at times, people's criteria can conflict.
For example, we need to recommend bringing in additional "Makeup air." Still, the environmental team does not want to generate other greenhouse gases generated by the makeup air unit's heating demands. In this case, we would recommend reviewing "Non-Tempered" air makeup solutions that require no additional heat to keep the environmental team happy and still provide the fresh air necessary to give the workers with clean air.
We believe our role is to support your team in finding the ultimate equipment selection and design while being ready to meet all parties' needs.
Our team is ready to lead and support you in gathering your teams' criteria. We then use our custom-designed "Expert System" to filter through our 30,000 products. This system uses your "industry," "Process," and "Preferred Engineering control," and "contaminant" (in-house access only) to accomplish this task.
From there we can review these product recommendations against your criteria and against our vast database of over 12,000 projects and over 80,000 proposals to ensure that we offer you a solution that meets the needs of as many stakeholders as possible.
"Outside of the box" solutions
Sometimes there is no practical solution readily available, and LEV-CO will never sell you a system because "that's all we have to offer." We will either point you in the direction of someone who has the expertise or the engineering resources available. We will custom engineer a solution that meets your specific needs. Let me give you a couple of examples:
US ARMY – Exposure to lead dust
A few years back, the US army came to us to request a downdraft table to sort munitions after target practice. Their criteria was as follows:
ZERO emission or exposure to lead dust
Constant flowrate even as filters loaded
Face velocities required by ACGIH and the Army Industrial Hygiene group
Zero risks of explosion
Ability to be powered in any country
Ergonomically safe
Ability to ship anywhere in the world without the risk of damage
Custom colour and coating spec
And many more
Lev-co went to work on a custom solution that met their needs, and there are our tables at almost every army base around the world. Click here for more info.
NASA
Nasa came to us in the early 2000' requesting a solution that would protect the
OSIRIS-REX spacecraft
from being exposed to carbon-emitting from the diesel engines of the mobile launcher. Criteria were as follows:
Zero emissions
Ability to stay connected to the mobile launcher when entering and to exit the cleanroom
Not deposit any carbon of the spacecraft (Carbon is typically a sign of life)
Meet all NASA's quality and safety requirements
Many more
The first unit was delivered and tested by Nasa engineers and deemed to be an effective solution. They proceeded to buy another unit to use on the second diesel engine.
Sustainability
Lev-co is committed to becoming a zero-emission company by 2029, with 100% of our services delivered through renewable energy sources such as solar and wind. As the world's leading innovator in clean air solutions, we take responsibility and challenge our team of young engineers to aggressively meet the challenge of climate change.
We will do this by powering our facilities through renewable energy sources, offering our off-site telecomputing teammates incentives to reduce their carbon footprint and ensuring that our products' delivery is done by electric vehicles.
We will also continue to develop our online education and communication tools such as:
Webchat (reduces carbon and speeds you through the design process)
Virtual showroom (Allowing you to see the control methods live before purchasing)
Online education materials (allowing the associate stakeholders the opportunity to learn at a time convenient to them.)
But most importantly, we strive to help our customers meet their own energy transition goals by making the latest energy controls available:
"On-demand" extraction and filtration of pollutants that use energy only when required
Ultra-low-volume extraction solutions that minimize flowrate and energy required to move the air
Usage of non-tempered makeup that scavenges existing heat to replace energy "hogs" that create vast amounts of greenhouse gases
Controls such as VFD's that eliminate "in-rush" currents that often exceed 10x the energy consumption and allow the air volume requirements so that they are delivered in the exact amount that is required to ventilate the process
5S
Lev-co is committed to supporting our clients on their 5S journey in the following ways.
SORT - we help clients sort through their existing ventilation system to see what is working, what needs to be tweaked, improved, and needs replacing
SET IN ORDER – through the use of our library of 2D auto-CAD or 3D SolidWorks models, we can support your efforts to maximize the efficiency of the workstation layout
SHINE:

Custom coloured powder-coated ductwork
Verify that the emissions from your filtration equipment is within spec.
Offering lighting solutions when our systems create areas of poor visibility

STANDARDIZE – we offer custom labelling, signs, banners, and tool holders designed to support your efforts in making sure all workers understand their responsibilities associated with our air cleaning systems and are empowered to perform all of the related tasks required to keep the systems running correctly.
SUSTAIN – we offer custom SOP placards, laser-cut, engraved, or printed on oil and solvent proof materials designed to assist you in making sure the right tasks are performed at the right time to maintain production levels, to keep everyone safe, and to create clean air environment for your workers.
If it's important to you, it's important to us!
Performance Guarantee
At Lev-co, we believe that our industry has the responsibility of guaranteeing you clean air. This is a lofty goal and one that should be quantitatively defined. There are many variables to be considered, and you need a team of dedicated professionals ready to support you. When a variable falls with our pre-defined performance scope, you need a team that recognizes their responsibility and goes about fixing the relevant issue as quickly as possible.