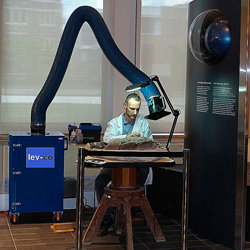 About Lev-co
In todays workplace everyone is concerned about HEALTH AND SAFETY. We have the experience and knowledge to understand your air quality challenges. We possess the expertise to design and install the systems necessary to meet all of your air quality needs. The ever-changing regulatory environment can make it difficult for businesses to remain compliant with clean air standards. Our highly trained application specialists can assess your air quality concerns, and assist you in achieving and maintaining approved air quality standards required by your particular industry. Our solutions are CLEAN AND SIMPLE. LEV-CO™'s staff use state-of-the-art ventilation designs, testing equipment and Auto-CAD software to develop extraction systems that comply with all ASHRAE and industrial ventilation guidelines.
LEV-CO™, the leading supplier of air pollution control products in Canada, has become an industry standard.LEV-CO™ has been manufacturing and supplying high quality industrial ventilation units for over 20 years. We are dedicated to providing our customers with effective air purification solutions and exceptional levels of service. Our dedication to circulating the cleanest air possible in workshops, warehouses and laboratories is shown by the increased productivity of workers who no longer have to cough, have their eyesight impaired or face serious health issues due to inhaling dangerous fumes and gasses. We utilize the most innovative technology and state of the art welding, and fabrication equipment available to assure quality air throughout the manufacturing process.
When purchasing industrial pollution control equipment, you need to be certain that the manufacturer will be there to provide you with support, both before and after the sale. You can count on LEV-CO™ to provide you with any help you require, be it questions, installation or advice. We will even send you brochures and specification drawings, free of charge!
We know that LEV-CO™ has the perfect solution for your needs, but don't just take our word for it. Here are some testimonials from a few of our customers:
"LEV-CO has literally eliminated the pollution problem with their simple, low maintenance arm - blower combination!"
"The fumes are not an issue any longer, and it's a much more pleasant room to work in."
"LEV-CO's quiet efficient, easy cleaning downdraft table has increased productivity and provides a clean working atmosphere."
"The solution works great. The flexible arms assure a great flexibility of the system."
Have more questions?
Learn more about Local Exhaust Ventilation or how to ensure that your Local Exhaust Ventilation works.

By working with LEV-CO™ today, youll breathe a little easier tomorrow!