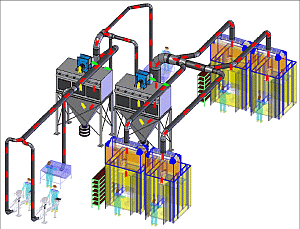 Centrally Ducted Filter Units
1. What is it?
Centrally Ducted Dust Collectors such as these are ideal for large shops and centrally ducted applications. Most of these solutions are based upon self-cleaning filter cleaning systems to help reduce filter costs. In addition, Water-based filtration systems are available for certain explosive and flammable applications.
2. Suitable applications
You can find a full list of suitable applications below:
3. Will it make my workplace safer?
Yes. We have a large variety of configurations available to suit every application. But the local exhaust ventilation systems we supply only work when they are configured and maintained as they are designed. The correct filter selection is paramount to smoothly capturing the contaminant properly and maintaining a safe work environment.
4. Suitable industries/environments
5. Available models and variants
You can view our products in our catalog below.
6. What criteria to consider
Velocity. What velocity is needed to pick up the contaminant?
Filter media. What is the air : cloth ratio required for consistent filtration for your application
Maintenance costs: How often will the filter need to be washed/replaced?
Are there any tertiary risks such as fire, explosion, etc, that I need to consider?
7. Preventing the spread of airborne fumes and chemicals
Industrial workers are exposed to a variety of health hazards every day. As a result, these workers risk the possibility of becoming sick, ill, and disabled for life. According to a WHO estimate (WHO, 2000), unintentional poisonings led to 300 000 deaths in the year 2000.
It's our mission to diminish that figure, but it only works if the correct equipment is used, and configured correctly. Our team works to make the logistics of those questions as straightforward and coherent as possible, and as such, will work with you to provide you with the best extraction system that fits your worker's needs. From accessibility and usability to reliability and longevity.
You can read more about the risks and preventions of fume extraction below:
OSHA
WHO
8. Pros & Cons versus other engineering control methods
Pros:
High volume for larger application
Industrial design
Modular
Single units serve multiple workstations
Self-contained
covers large range of contaminants
Cons:
Fixed position
Installation
9. Effectiveness versus dilution ventilation
The integral flaw with dilution ventilation is that the contaminant picked up by the process ultimately stays airborne. Dilution ventilation picks up the contaminant and dilutes it with clean air, but doesn't remove the contaminant from the air until it has spread through the building to the exhaust system. As a result of this, dilution ventilation is not suitable for industrial processes. The contaminants produced in industrial process include toxic fumes, metal dust, oil mist, vapors, and gases.
Local exhaust ventilation is a much more effective extraction process that utilizes methods that capture the contaminant near or at the source of process. This eliminates the possibility of airborne contaminants entering the breathing zone. Rather than invest money into the buildings ventilation system to cope with the contaminant, simply invest in what will remove the risk all together.
To read up more about the benefits of local exhaust ventilation versus dilution ventilation, refer to these links:
CCOHS
Use of local exhaust and dilution ventilation
10. Maintenance costs
Construction:
Our units are build using only raw materials like steel and aluminum. This ensures a long lasting product that won't fail from fatigue of plastic or die-cast elements. We also finish our products in a durable polyurethane finish which designed to cope with harsh environments, reducing the risk of corrosion.

Filters:
Our filter units incorporate a "Vibra-Pulse" filter cleaning system that reduces maintenance costs dramatically when compared to conventional filtration designs. We also offer a HEPA high efficiency after-filter to deliver 99.97% filter efficiency.

Electric Motor:
All of our units incorporate an electric direct-drive motor. Without the use of pulleys or belts, the maintenance associated with the motor is all but non-existent.