Updraft & Overhead Capture Systems
Updraft and Overhead hoods, completely or partially enclose the process or contaminant generation point. For example: A Complete Enclosure would be a sealed "box" or similar type of configuratin where only minimal openings exist and the contaminated air is sucked up and away. The enclosing hood is preferred wherever the process configuration and operation will permit. A Partial Enclosure would be an "open box" (i.e.: with the lid cut off). An inward flow of air through the enclosure opening will contain the contaminant within the enclosure and prevent its escape into the outside work environment. If complete enclosure is not feasible, partial enclosure should be used to the maximum extent possible.

Here are some general design velocities when using "RECEIVING" Hoods:

Please contact a Lev-Co representative for more information.
07-001
LEV Overhead Hoods - Smoke, fumes, dusts and gases - Optional Fans & Filtration available - Sizes from 1'X1 to 100'X30'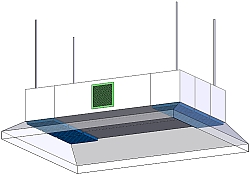 LEV-Hoods are pre-engineered ventilation hoods that are available with optional filters and fans. These simple designs are ready to mount in a "free-hanging" manner above welding cells or work tables. They allow the aerosols to be "received" from various industrial processes and further treated or exhausted as required.
The Contaminant is either "received" by the hood or contained by a fabric enclosure where the contaminant can be optionally filtered and or transported to the atmosphere.
Most Systems can be put in position with minimal mechanical installation time, typical 2 hours/2 men per hood. Electrical motor and lighting connections are also required.
This is an excellent solution when at-the-source capture of pollutants is not possible, practical or convenient. Simply put this is a nice quiet efficient and effective contaminant capture system.
07-005
HC-4-Flexi (Size and Flow to Suit)
Horizontal cartridge collector w/4 Clean-2® filter cartridges.
Comes prepared to accept up to 4 Flexi© Extractor Arms (ordered separately), which allows for excellent extraction right at source. This solution is ideal when a packaged "Pre-engineered" solution is required. Suitable for most welding and light dust applications.
07-007
MC-2500 free hanging air cleaner for use extraction arms or ducted connections
Air cleaner with 2 or 4 connections.
Extraction arms can be direct or remote mounted. Collector comes complete with filter, Fan and silencer. 2400 CFM 230-460-600V/3/60
07-002
F91 Suspended System with Extraction Arms - Smoke & Dust - 1 or 2 Arms 7'' Ø (650-1,300 CFM)
Overhead self-supporting pickup arm.
Source capture, single arm unit, 2" mesh pre-filter, 95% bag main filter, single arm inlet plenum, 10' long, E-Z ARM®. Rated 1200 CFM. Includes Class II B.I. blower direct drive, 3 HP motor, 3ø
07-004
HC4 Suspended System with Extraction Arms/Self cleaning filters - Smoke & Dust - 1 or 2 Arms 7'' Ø (1,000-2,000 CFM)
Horizontal cartridge collector w/4 Clean-2® cartridge filters (150ft² of media each).
Comes complete with either DUAL inlets or (2) 10' long E-Z Arm® high flow extractors (with damper and light in hood), AUTO-CLEAN VIBRA-PULSE® filter cleaning system, a 3 HP TEFC motor and a ½" NPT regulator. 2000 CFM
07-003
F122 Suspended System with Extraction Arms - Smoke & Dust - 1 or 2 Arms 7'' Ø (1,000-2,000 CFM)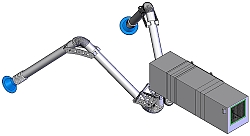 Overhead dual self-supporting pickup arms.
Source capture, dual arm unit, includes model F120- 2AL-95 unit, inlet plenum and 2 pickup arms E-Z ARM® x 10' long self-supporting, 2000 CFM. Includes Class II B.I. blower and direct drive 3 HP motor.