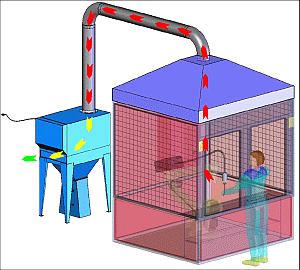 Overhead Filter Systems
1. What is it?
Updraft and Overhead hoods, completely or partially enclose the process or contaminant generation point.

For example:

A Complete Enclosure would be a sealed "box" or similar type of configuration where only minimal openings exist and the contaminated air is sucked up and away. The enclosing hood is preferred wherever the process configuration and operation will permit.

A Partial Enclosure would be an "open box" (i.e.: with the lid cut off). An inward flow of air through the enclosure opening will contain the contaminant within the enclosure and prevent its escape into the outside work environment.
If a complete enclosure is not feasible, the partial enclosure should be used to the maximum extent possible.
3. Will it make my workplace safer?
Yes it will, but only when systems are set up and maintained for the correct application. Filter selection is the most important variable to ensuring the reliability, effectiveness, and safety of the unit you use.
4. Suitable industries & environments
5. Available models and variants
For a list of available models, check out our catalog below.
6. Preventing the spread of airborne fumes & chemicals
Industrial workers are exposed to various health hazards all the time. These workers go to work with the risk of becoming sick, ill, or disabled. According to a WHO estimate (WHO, 2000), unintentional poisonings led to 300 000 deaths in the year 2000.
It's our mission to diminish that figure, but it only works if the correct equipment is used, and configured for the right contaminant. Our team works to make the logistics of those questions as straightforward and coherent as possible, and as such, will work with you to provide you with the best extraction system that fits your worker's needs. From accessibility and usability to reliability and longevity.
You can read more about the risks and preventions of fume extraction below:
OSHA
WHO