Dust, Fume & Vapor Control Booths
Environmental Control Booths allow operators to work on a variety of components while assuring worker comfort and visibility within the critical area. These solutions also ensure that the "dust produced within the booth... stays in the booth..." Some important points to consider when purchasing:
How large does the booth have to be?
Is the air speed through the work zone high enough to protect the worker?
What is the noise level? (inside and outside the booth)
Will it stand up to your environment (Eg: is it made from Plastic or Steel?)
Filter cleaning: is it easy to clean? Does the filter cleaning system really work?
What will be my filter costs per year (in welding you can use lbs of welding wire…)
What is the filtration efficiency
Are there any tertiary risks such as fire, explosion, etc?
For more info, please see the products and associated documentation listed below.
08-001
Fume/Booth - Odors and Lights dusts - 2' X 2' Opening (230 CFM)
A ductless, portable desktop and bench top system for the removal of fumes, dust, smoke, odors and gases in a compact design.
Attachments
001 - Equipment Specification and Dimension Drawings:
003a - Client Installations - Case Studies with Video:
017 - LEV CAD Blocks (Auto CAD, RVT, SLDPRT):
08-002
Paintbooth - Volatile Organic Compounds & Spray Painting - 800 24''D X 32''W X 36"H (800 CFM)
600 CFM Portable Paint Booth. Includes access door for filter removal, removable panel for access to direct drive motor/blower compartment, casters, acoustically lined blower cabinet and BF3 enclosure.
08-003
Panel Booth - Light dust & Volatile Organic Compounds - Booth sizes to suit & flow to suit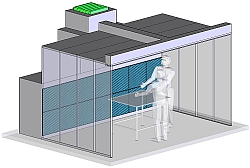 LEV-CO'S PANEL BOOTH is a fully customized dust booth that allows the selection of the precise filter components to control emissions from your specific process. When selecting these components, we take into consideration the following aspects of your process:
Contaminant
Concentration
Particle Size
Dispersion Velocity
Buoyancy
Temperature
Worker Position Effect
Specific Gravity Relative to Air
Understanding that ALL PROCESSES ARE NOT CREATED EQUAL, Lev-Co's panel booths are designed to improve worker health and safety, and production efficiency.
Standard booth construction is 10 gauge insulated galvanized panels up to 10' high. Advanced Core Insulation – sound-absorbing mats of two (2) inch fiberglass compressed to one (1) inch. Outer Layer – this outer layer further enhances sound attenuation with five (5) mil aluminized vinyl-impregnated fiberglass cloth covering of mat.
As noted above, filter media is selected to your precise contaminant and process and is further detailed on your quote and submittals.
Maintenance is a breeze with easy to change filters being either washable, disposable, or refillable.
All systems are sold with a VFD and are thus both energy efficient and quiet.
08-007
ZINCOCAR DF - Booth for dust and smokes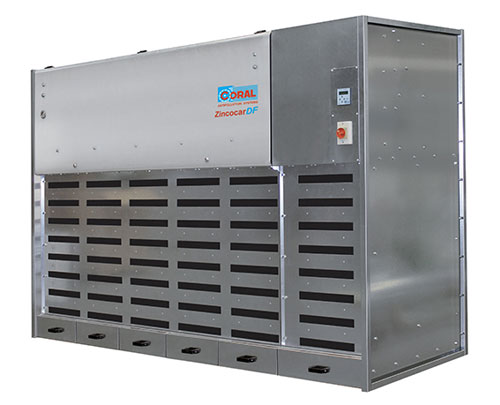 Booth for dust and smokes
Suction and filtering of:
WOOD SANDING DUSTS
STEEL SANDING/GRINDING DUSTS
WELDING FUMES
DUSTS FROM INERT MATERIALS WORKING
DUSTS FROM SURFACE METALLIZATION
The sanding booth ZINCOCAR DF has been studied according to modern criteria of plug & play, easy maintenance, maximum filtration efficiency and easy stand along positioning.
Designed for various applications in workshops where:
Local/source exhaust is difficult or not possible
Ductwork installation is complicated or not suitable
Air-conditioned or heated workshops to avoid energy waste in axhausting the air outdoor and the need to recycle the outside air
Environments where the source of pollutant/smoke is changing depending on process
Insufficient local exhaust performed by portable units or weak filtering capability of the existing pollution control system
08-008
Minispray Dry Painting Booth
By means of the centrifugal fan mounted on the top of the booth, negative pressure is created, drawing air through the filters. This flow draws the particles of paint suspended in the air to the filters without any dispersion in the surrounding environment. The first stage of filtration blocks the larger particles of paint and the second, made of fiberglass, blocks the finer particles; the air purified of solid pigments is expelled by the fan. The Minispray dry painting booths are designed to ensure versatility, modularity and efficiency. They consist entirely of zinc-plated panels bolted together: the side panels and dividers are self supported. The extracting front has filter holding grooves set for housing a double filtering system. On top, is the spark proof centrifugal fan. Dimensions and Weight: 98"x42"x42" at 550lbs (casters included)
08-009
Minidry Painting Booth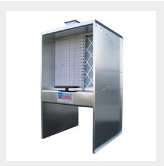 Suitable for painting small pieces, for small series or final touches. With fans fitted with a high-performance backward inclined spark proof impeller and a revolving part holder. They are supplied fitted with a paper filter.
08-181
(T-08-18-1) Dust Control Booth™ (DCB)
DCB, Dust Collection Booths contain dust and smoke from finishing, grinding, sanding and welding. The DCB (Dust Control Booth) is an excellent solution for "hard to Capture" or localize applications such as grinding or multi-purpose work stations. By enclosing the application all other workers are protected from harmful emissions and when used correctly, this solution allows the worker to maintain a "Safe Breathing Zone" at all times.
Attachments
001 - Equipment Specification and Dimension Drawings: