Nickel Mining
Nickel deposits are typically found in low-grade ores (1-2% nickel) thus making it highly energy intensive to extract and refine the metal. This leads to high emissions of greenhouse gases into the atmosphere and the use of large amounts of energy derived predominantly from fossil fuels (1). In a recent analysis, nickel was ranked as the 7th most damaging metal to human health and ecosystems.



Sources: (1) T. E. Norgate, S. Jahanshahi, W. J. Rankin, J. Clean. Prod. 15, 838–848 (2007).
For further support, please contact us directly at 1-888-862-5356.
Centrally Ducted Filter Units
Centrally Ducted Dust Collectors such as these are ideal for large shops and centrally ducted applications. Most of these solutions are based upon self-cleaning filter cleaning systems to help reduce filter costs. In addition, Water based filtration systems are available for certain explosive and flammable applications.


For more info, please see the products and associated documentation listed below.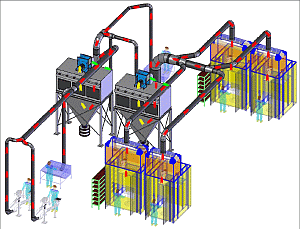 Fans for air make up and exhaust are quite often a difficult product to find when designing a simple ducted local exhaust system. Here we offer a variety of "LEV" (Local Exhaust & Ventilation) fans specifically designed to meet the demands of such systems. These Fans are able to handle specific applications such as: - Corrosive Fumes - Abrasive Dusts - Proper Flow and Static Pressure for a particular application.

Please feel free to contact one of our System Design Technicians for help in selecting the right fan for your application.