MetalWorking - Chip Collection
Here are method(s) that control the emissions generated from the Chip Collection process.

Click on the preferred Control Method to learn more about:
Budgetary costs (Do you own quote)
Codes that are relevant to this control method
Dimensional Data
Equipment in use
Installation examples
Videos
Owners manuals
Brochures
For further support, please contact us directly at 1-888-862-5356.
High-Pressure / Low Volume HPLV
Mobile HEPA vacuums and hi-vacuum/pressure dust collectors, designed for tough industrial applications. toughest use. We use a variety of filtration stages, EG: Pre-separators, Pre-filters, spark traps, cleanable or self-cleaning main filter, HEPA filters and VOC/ODOUR control final filters. Certified Leak tested HEPA filters are tested for effectiveness and safety of the personnel using the equipment..
Industrial Hose & Duct Work
Lev-Co offers a wide variety of lightweight, flexible, abrasive resistant, heat tolerant, innovative technical hoses to provide solutions for a wide range of industrial & Automotive applications. Here are some general design velocities when using "CAPTURE" Hoods:

Smoke (e.g. Welding):
Capture Velocity 100 FPM
Transport Velocity 3000 FPM
Minimun Face velocity 2355 FPM

Dust (e.g. Grinding):
Capture Velocity 500 FPM
Transport Velocity 4000 FPM
Minimun Face Velocity 4000 FPM

Gas (e.g. V.O.C.'s):
Capture Velocity 50 FPM
Transport Velocity 2000 FPM
Minimun Face Velocity 785 FPM

Mist:
Capture Velocity 100 FPM
Transport Velocity 2250 FPM
Minimun Face Velocity 1766 FPM

FOR MORE SUPPORT IN SELECTING THE RIGHT HOSE pls EMAIL us with details on your application at: sales@lev-co.com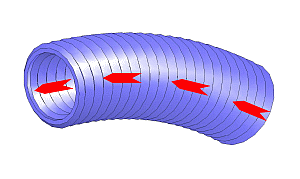 Mist Collectors are for a variety of mist producing applications such as: CNC Machining and Coldheading Applications. These filters are "SELF-DRAINING" and it is important that the amount of dust being captured by these systems does not exceed more than 5% of the total extracted pollutant. If the dust quantity is kept to a minimum, filter life can be expected between 1 and 5 years depending on the application and runtime.

Here are some general design velocities when using "CAPTURE" Hoods: Mist:

Capture Velocity 100 FPM
Transport Velocity 2250 FPM
Minimum Face Velocity 1766 FPM


Here are some general design velocities when using "ENCLOSING" Hoods: Mist CNC:
Minimum Face Velocity 75 FPM
Transport Velocity 2250 FPM