Miscellaneous Operations - Cigarette and Tobacco Smoke
Here are method(s) that control the emissions generated from the Cigarette and Tobacco Smoke process.

Click on the preferred Control Method to learn more about:
Budgetary costs (Do you own quote)
Codes that are relevant to this control method
Dimensional Data
Equipment in use
Installation examples
Videos
Owners manuals
Brochures
For further support, please contact us directly at 1-888-862-5356.
Ambient Air Cleaners involve the use of large "Washable, Cleanable or Replaceable Media" filters. These units, both filter and re-circulate the air back into the work place Installation Configurations: Free Hanging "Negative Pressure" "Race Track" "Cross Dilution" Depending upon the designed air pattern, these systems "scrub" the ambient air of contaminants and the result is a dramatic reduction of airborne pollution. These systems are best used in combination with source-collection equipment.

Some important things to consider when purchasing these types of units:

What is the volume of the room you want to clean? (cubic dimension: L'xW'xH')
How many times would you like to change the air in your room? (eg: Welding=8 AC/H)
How much contaminant do I generate? (eg: dust, smoke, fume)
Where am I going to mount these units?
Can I use these units to create a negative pressure in my work area?
Do I want "throw away", "washable", "cleanable" or "self cleaning" filters?


For more information, please see the products and information listed below: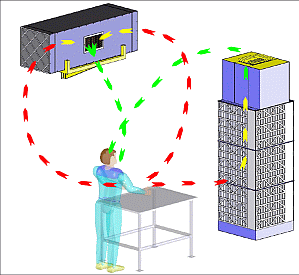 Ducted Air Cleaners are used in a variety of applications where the filter selection often requires a specific configuration. With these collectors you can select a variety of particulate, liquid or gas phase filters such as "HEPA" filters, "Mist Agglomerators" and "Gas Adsorbers" respectively. These systems are available with or without pre-engineered and installed fan packages.

Here are some general design velocities when using "CAPTURE" Hoods:

Smoke (e.g. Welding):

Capture Velocity 100 FPM
Transport Velocity 3000 FPM
Minimun Face Velocity 2355 FPM
Dust (e.g. Grinding):
Capture Velocity 500 FPM
Transport Velocity 4000 FPM
Minimun Face Velocity 4000 FPM
Gas (e.g. V.O.C.'s):
Capture Velocity 50 FPM
Transport Velocity 2000 FPM
Minimun Face Velocity 785 FPM
Mist:
Capture Velocity 100 FPM
Transport Velocity 2250 FPM
Minimum Face Velocity 1766 FPM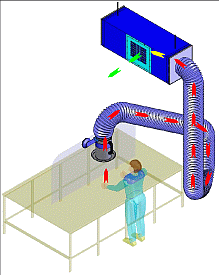 Fans for air make up and exhaust are quite often a difficult product to find when designing a simple ducted local exhaust system. Here we offer a variety of "LEV" (Local Exhaust & Ventilation) fans specifically designed to meet the demands of such systems. These Fans are able to handle specific applications such as: - Corrosive Fumes - Abrasive Dusts - Proper Flow and Static Pressure for a particular application.

Please feel free to contact one of our System Design Technicians for help in selecting the right fan for your application.