Here are method(s) that control the emissions generated from the process.

Click on the preferred Control Method to learn more about:
Budgetary costs (Do you own quote)
Codes that are relevant to this control method
Dimensional Data
Equipment in use
Installation examples
Videos
Owners manuals
Brochures
For further support, please contact us directly at 1-888-862-5356.
Fans for air make up and exhaust are quite often a difficult product to find when designing a simple ducted local exhaust system. Here we offer a variety of "LEV" (Local Exhaust & Ventilation) fans specifically designed to meet the demands of such systems. These Fans are able to handle specific applications such as: - Corrosive Fumes - Abrasive Dusts - Proper Flow and Static Pressure for a particular application.

Please feel free to contact one of our System Design Technicians for help in selecting the right fan for your application.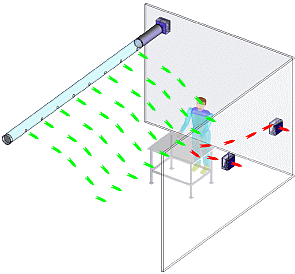 Capture at Source Extraction Arms are used to capture airborne contaminants before the contaminants have a chance to reach the workers' breathing space.
Available in several different designs:
Internally Supported
Externally Supported
Telescopic
Mild or Stainless Steel Construction
Lengths: Up to 45'
2.5" to 8" Diameter's Available
Typically the Extraction Arms are connected to a fixed extraction fan, Filter system or dust collector via direct mounting or a "Header Type" duct system.
For more info, please see the products and associated documentation listed below.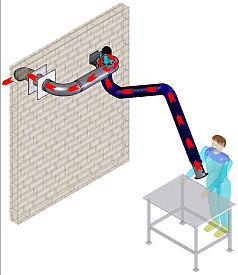 Updraft & Overhead Capture Systems
Updraft and Overhead hoods, completely or partially enclose the process or contaminant generation point. For example: A Complete Enclosure would be a sealed "box" or similar type of configuratin where only minimal openings exist and the contaminated air is sucked up and away. The enclosing hood is preferred wherever the process configuration and operation will permit. A Partial Enclosure would be an "open box" (i.e.: with the lid cut off). An inward flow of air through the enclosure opening will contain the contaminant within the enclosure and prevent its escape into the outside work environment. If complete enclosure is not feasible, partial enclosure should be used to the maximum extent possible.

Here are some general design velocities when using "RECEIVING" Hoods:

Please contact a Lev-Co representative for more information.