Paper and Leather Manufacturing - Paper Pulping
Here are method(s) that control the emissions generated from the Paper Pulping process.

Click on the preferred Control Method to learn more about:
Budgetary costs (Do you own quote)
Codes that are relevant to this control method
Dimensional Data
Equipment in use
Installation examples
Videos
Owners manuals
Brochures
For further support, please contact us directly at 1-888-862-5356.
Fans for air make up and exhaust are quite often a difficult product to find when designing a simple ducted local exhaust system. Here we offer a variety of "LEV" (Local Exhaust & Ventilation) fans specifically designed to meet the demands of such systems. These Fans are able to handle specific applications such as: - Corrosive Fumes - Abrasive Dusts - Proper Flow and Static Pressure for a particular application.

Please feel free to contact one of our System Design Technicians for help in selecting the right fan for your application.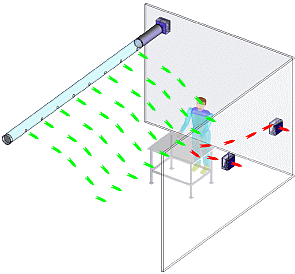 Industrial Hose & Duct Work
Lev-Co offers a wide variety of lightweight, flexible, abrasive resistant, heat tolerant, innovative technical hoses to provide solutions for a wide range of industrial & Automotive applications. Here are some general design velocities when using "CAPTURE" Hoods:

Smoke (e.g. Welding):
Capture Velocity 100 FPM
Transport Velocity 3000 FPM
Minimun Face velocity 2355 FPM

Dust (e.g. Grinding):
Capture Velocity 500 FPM
Transport Velocity 4000 FPM
Minimun Face Velocity 4000 FPM

Gas (e.g. V.O.C.'s):
Capture Velocity 50 FPM
Transport Velocity 2000 FPM
Minimun Face Velocity 785 FPM

Mist:
Capture Velocity 100 FPM
Transport Velocity 2250 FPM
Minimun Face Velocity 1766 FPM

FOR MORE SUPPORT IN SELECTING THE RIGHT HOSE pls EMAIL us with details on your application at: sales@lev-co.com