Machine Shop - Metal Spinning
Here are method(s) that control the emissions generated from the Metal Spinning process.

Click on the preferred Control Method to learn more about:
Budgetary costs (Do you own quote)
Codes that are relevant to this control method
Dimensional Data
Equipment in use
Installation examples
Videos
Owners manuals
Brochures
For further support, please contact us directly at 1-888-862-5356.
Mist Collectors are for a variety of mist producing applications such as: CNC Machining and Coldheading Applications. These filters are "SELF-DRAINING" and it is important that the amount of dust being captured by these systems does not exceed more than 5% of the total extracted pollutant. If the dust quantity is kept to a minimum, filter life can be expected between 1 and 5 years depending on the application and runtime.

Here are some general design velocities when using "CAPTURE" Hoods: Mist:

Capture Velocity 100 FPM
Transport Velocity 2250 FPM
Minimum Face Velocity 1766 FPM


Here are some general design velocities when using "ENCLOSING" Hoods: Mist CNC:
Minimum Face Velocity 75 FPM
Transport Velocity 2250 FPM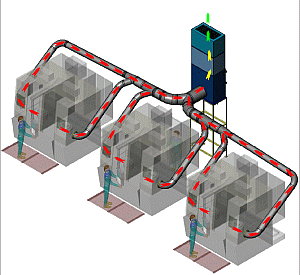 Portable Dust & Fume Filter Units. Quite often "Clean Air" solutions are required throughout a work place. These units can be easily moved from location to location with ease while capturing dust and fumes where needed.
Various Options in Filtering Systems Available:
Washable Filters
Cleanable Filters
Self-Cleaning Systems
Throw Away Filters
All Units equipped with fan/motor assemblies to ensure adequate extraction at all times
For more info, please see the products and associated documentation listed below.