Educational Facilities - Chemistry Laboratories
Here are method(s) that control the emissions generated from the Chemistry Laboratories process.

Click on the preferred Control Method to learn more about:
Budgetary costs (Do you own quote)
Codes that are relevant to this control method
Dimensional Data
Equipment in use
Installation examples
Videos
Owners manuals
Brochures
For further support, please contact us directly at 1-888-862-5356.
1. What is an extraction arm?
Answer: An extraction arm is a Capture or receiving device designed to capture aerosols at the emission point before the contaminants have a chance to reach the workers' breathing space.
Typically, it is the 1st and most crucial part of an LEV or Local Exhaust & Ventilation system. NB: NB: Local exhaust ventilation can also be referred to as Process ventilation or Industrial Ventilation, or Local Control ventilation.
Available in several different designs:
Internally Supported
Externally Supported
Telescopic
Mild or Stainless Steel Construction
Lengths: Up to 45'
2.5" to 8" Diameter's Available
Typically the Extraction Arms are connected to a fixed extraction fan, Filter system or dust collector via direct mounting or a "Header Type" duct system.

2. What applications are best served by extraction arms?
Answer: Here is a list: (List all of the Process linked to the catalogue solution called "Extraction arms")

3. Can "extraction arms" make toxic work places spaces safe from Airborne contaminants?
ANSWER: Yes, but only when systems the systems are designed, installed and used precisely. Unlike Dilution ventilation, Extraction arms can return significant energy savings and improvements in health and safety. However, the precision at which they must be designed, installed and used can be complex. Lev-co recommends that these three procedures OSHA's HOC(hierarchy of controls) and MOC (management of change) and PSR (Pre-start Safety review), when appropriate, should be used when selecting extraction arms as a capture method.

Here are links to examples of these 2 procedures:
OSHA Hierarchy of controls (https://www.osha.gov/sites/default/files/2019-03/health_hazards_workbook.pdf
MOC Management of change sample document (https://www.safer.ca/docs/safer_combustible_dust_management_of_change_handout.pdf)
PSR Pre-start Health and Safety review (https://www.osha.gov/sites/default/files/publications/osha3132.pdf)

4. What industries and environments are extraction arms used in?
ANSWER: Here are the various industries using extraction arms: (Show links to relevant industries)

5. What are the different types of extraction arms available?
ANSWER: See our offering of fume extractors here: (Show list from catalogue section)

5.5 What are the selection criteria that must be considered when selecting an extraction arm?
ANSWER: See Below:


Capacity (How much flow will the extraction arm handle?)
Capture velocity (can the extraction accommodate the required capture velocity to capture the aerosol?)
Easy to use (How many articulations/joints does the extraction arm have?)
Stay in place? (Does the extraction stay in place, how often do the joints need to be tightened?
Extension hoods (Do you need a large diameter extension hood, eg 36" diameter?) (Optional)
Can the extraction arm withstand the Pressure/abraision/corrosion/etc?

<

What are the pros and cons of extraction arms versus other types of capture methods?
ANSWER: Pro's:

Remove airborne toxins at source before they enter any worker"s breathing zone
Low energy costs (Heat loss, electrical energy)
Allow the use of smaller filtration equipment
Well suited for "on-demand" controls allowing for greater flow at the source, yet lower overall flow
Some extraction arms allow the supporting of items like wire feeders, Compressed air cord reels and electrical cord reels for increased productivity
Better visibility through the addition of hood-mounted lighting solutions
Optimized hoods, large-diameter receiving hoods and hose extensions are effective solutions where capture or hood placement is difficult
hood can be rotated 90 degrees (perpendicular to the floor), eliminating shadowing
when used correctly, the operator can visually see the contaminant being safely drawn away from the process Con's:

Operator needs to be comfortable with the use of the arm to ensure adequate capture
Arms not always available in larger diameters for required capture velocity
Production time lost to place the extraction arm in place
Cannot always reach the point of emission
Worker buy-in is not always achieved due to lack of fume capture
Fugitive emission released into the workspace
Some extraction are not built to withstand the working environment
poor design can lead to excess capture velocity resulting in extra capture velocity (Shielding gases loss) and air noise.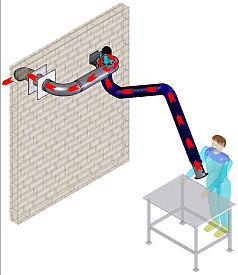 Single or Dual Work-Station Filter Units
Single or Dual Work-Station Filter Units such as these are ideal for 'Cell Based' manufacturing and work stations. Most of these solutions are based upon self-cleaning filter cleaning systems to reduce filter costs.Water based systems are also available for certain explosive and flammable applications
Some important points to consider when purchasing:
What is the Total Flow Rate? (How many CFM's are needed to capture the contaminants)
What is the exact resistance (filter and capture device losses) required for the fan to overcome?
Do I have enough filter media in the collector?(Air to cloth ratio)
Will it stand up to your environment (Eg: is it made from Plastic or Steel?)
Filter cleaning: Does the filter cleaning system really work in your application?
What will be my filter, maintenance and energy costs per year?
Are there any tertiary risks such as fire, explosion, etc, that I need to consider?
For more info, please see the products and associated documentation listed below.