Construction - Rock Drills
Here are method(s) that control the emissions generated from the Rock Drills process.

Click on the preferred Control Method to learn more about:
Budgetary costs (Do you own quote)
Codes that are relevant to this control method
Dimensional Data
Equipment in use
Installation examples
Videos
Owners manuals
Brochures
For further support, please contact us directly at 1-888-862-5356.
Industrial Hose & Duct Work
Lev-Co offers a wide variety of lightweight, flexible, abrasive resistant, heat tolerant, innovative technical hoses to provide solutions for a wide range of industrial & Automotive applications. Here are some general design velocities when using "CAPTURE" Hoods:

Smoke (e.g. Welding):
Capture Velocity 100 FPM
Transport Velocity 3000 FPM
Minimun Face velocity 2355 FPM

Dust (e.g. Grinding):
Capture Velocity 500 FPM
Transport Velocity 4000 FPM
Minimun Face Velocity 4000 FPM

Gas (e.g. V.O.C.'s):
Capture Velocity 50 FPM
Transport Velocity 2000 FPM
Minimun Face Velocity 785 FPM

Mist:
Capture Velocity 100 FPM
Transport Velocity 2250 FPM
Minimun Face Velocity 1766 FPM

FOR MORE SUPPORT IN SELECTING THE RIGHT HOSE pls EMAIL us with details on your application at: sales@lev-co.com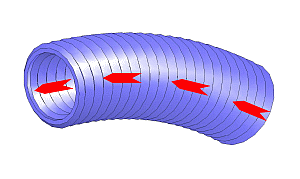 Single or Dual Work-Station Filter Units
Single or Dual Work-Station Filter Units such as these are ideal for 'Cell Based' manufacturing and work stations. Most of these solutions are based upon self-cleaning filter cleaning systems to reduce filter costs.Water based systems are also available for certain explosive and flammable applications
Some important points to consider when purchasing:
What is the Total Flow Rate? (How many CFM's are needed to capture the contaminants)
What is the exact resistance (filter and capture device losses) required for the fan to overcome?
Do I have enough filter media in the collector?(Air to cloth ratio)
Will it stand up to your environment (Eg: is it made from Plastic or Steel?)
Filter cleaning: Does the filter cleaning system really work in your application?
What will be my filter, maintenance and energy costs per year?
Are there any tertiary risks such as fire, explosion, etc, that I need to consider?
For more info, please see the products and associated documentation listed below.