Canopy/Receiving Hoods
Canopy hoods, or exterior hoods, are those which are located above an emission source without enclosing it. Where the contaminant is a smoke, fume, or fine particulate and is not emitted with any significant velocity, the hood orientation is not critical. However, if the contaminant contains large particulates which are emitted with a significant velocity, the hood should be located in the path of the emission. As with welding, the process emits hot contaminated air and rises due to thermal buoyancy.
07-008
Canopy Hoods for CNC Machines
Canopy Hoods are a pre-engineered hood that encloses a CNC or similar machine to allow for the capture of dust and fumes.
07-001
LEV Overhead Hoods - UPDRAFT & OVERHEAD CAPTURE SYSTEMS
LEV-Hoods are pre-engineered ventilation hoods that are available with optional filters and fans. These simple designs are ready to mount in a "free-hanging" manner above welding cells or work tables. They allow the aerosols to be "received" from various industrial processes and further treated or exhausted as required.
Overhead hoods are the perfect option for limited floor space or the desire for a clean and tidy extraction system. Our hoods are quiet and efficient, making them virtually unnoticeable within the workplace.
LEV-Hoods are an excellent solution when at-source capture of pollutants is not possible, practical, or convenient. - a nice quiet efficient and effective contaminant capture system.
Our overhead hood system uses a three-stage filter configuration composed of a 2-inch baffle filter for spark resistance, a 4-inch pleated filter for capturing larger particles, and a final multi-pocket high-efficiency bag filter for capturing the smallest particles.
Through suction, the contaminant is either "received" by the hood or contained by a fabric enclosure where the contaminant can be optionally filtered and or transported to the atmosphere.
Most Systems can be put in position with minimal mechanical installation time, typical 2 hours/2 men per hood. Electrical motor and lighting connections are also required.
Available Options:
Silencer
Floor Stand
Magnahelic Pressure Gauge
Manometer
65% Bag Filters
Welding Curtain
Attachments
001 - Equipment Specification and Dimension Drawings:
003 - Client Installations - Case Studies with Photos:
01-042
TERFU Lab & Bench Top - Extraction Arms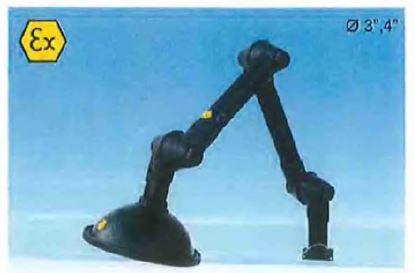 TERFU arms are excellent small to midsized arms designed with tabletop use in mind. Our arms can be mounted in a variety of configurations, either tabletop, ceiling, or wall-mounted configurations available.
These arms come in 3 diameters. 50, 75, and 100mm.
The TERFU is a local extractor with friction joints designed for use in workplaces where great flexibility is required e.g. laboratories, production environments, and light industrial applications.
Simple, easy function:
The friction joints have a large frictional diameter and are supported with ball bearings. The degree of friction is easily adjusted with a one-hand knob.
Adapted support springs balance out the weight of the arm.
All arms are equipped with a 360 degree rotational swivel-mounted in place. An airtight damper is fitted as standard.
All sizes are suitable for table mounting, ceiling mounting and wall mounting.
The same suction arm is used for suspended mounting from ceilings and walls.
Ceiling and wall brackets both consist of an anodized square aluminum profile for durable surfaces and high stability.
All ceiling brackets are available in eight standard lengths up to 80 inches. Longer lengths can be supplied by special orders.
To further simplify your mounting and provide a cleaner look, an MTI CT escutcheon plate can be used to cover rough cut holes in the false ceiling.
Terfu is available in two versions:
Standard: For use in most laboratory environments. Joints made from PP and tubes from aluminium
PP: For environments containing high concentrations of corrosive pollutants. Internal epoxy coating is recommended for ceiling installations. Joints and tubes made from polypropylene