Canopy/Receiving Hoods
Canopy hoods, or exterior hoods, are those which are located above an emission source without enclosing it. Where the contaminant is a smoke, fume, or fine particulate and is not emitted with any significant velocity, the hood orientation is not critical. However, if the contaminant contains large particulates which are emitted with a significant velocity, the hood should be located in the path of the emission. As with welding, the process emits hot contaminated air and rises due to thermal buoyancy.
01-042
TERFU Lab & Bench Top - Externally Supported - 2'',3'',4'' Ø
TERFU is a local extractor with friction joints designed for use in workplaces where great flexibility is required e.g. laboratories and production environments in lighter industrial applications. Always easy to select the right product. Terfu is available in four versions:
Standard version. Suitable for evacuation of most types of airborne contaminants.
PP version. Most suitable for evacuation of highly corrosive contaminants in high concentrations.
ESD version. For ESD environments, type approved to EN 61340-5-1.
ATEX version. For ATEX classed environments, as in directive 94/9/EC category 2, for gases and dust.
07-001
LEV Overhead Hoods - Smoke, fumes, dusts and gases - Optional Fans & Filtration available - Sizes from 1'X1 to 100'X30'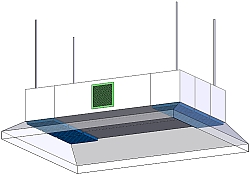 LEV-Hoods are pre-engineered ventilation hoods that are available with optional filters and fans. These simple designs are ready to mount in a "free-hanging" manner above welding cells or work tables. They allow the aerosols to be "received" from various industrial processes and further treated or exhausted as required.
The Contaminant is either "received" by the hood or contained by a fabric enclosure where the contaminant can be optionally filtered and or transported to the atmosphere.
Most Systems can be put in position with minimal mechanical installation time, typical 2 hours/2 men per hood. Electrical motor and lighting connections are also required.
This is an excellent solution when at-the-source capture of pollutants is not possible, practical or convenient. Simply put this is a nice quiet efficient and effective contaminant capture system.
07-008
Canopy Hoods for CNC Machines
Canopy Hoods are a pre-engineered hood that encloses a CNC or similar machine to allow for the capture of dust and fumes.