Operating Room
Here are method(s) that control the emissions generated from the Operating Room process.

Click on the preferred Control Method to learn more about:
Budgetary costs (Do you own quote)
Codes that are relevant to this control method
Dimensional Data
Equipment in use
Installation examples
Videos
Owners manuals
Brochures
For further support, please contact us directly at 1-888-862-5356.
In light of the WHO's confirmation that there is "emerging evidence" of airborne transmission of Corona virus virus Lev-co has put together a series of products that may assist you in designing and procuring solutions that limit the spread of airborne particles such as the corona virus. In this section you will find equipment that addresses each these components required in a ventilation systems tailored to capture and filter and return air the your facilty:
Capture hoods and devices
Transport ducts and hoses
Powered and non-powered filter housings and air cleaners
Electrical controls (VFD and differential Pressure controls
Booster fans
Supply Air Nozzles to direct the flow to the capture hoods and devices.

Here are a few links to articles written about the capture and control of Covid-19 emmisions:
Capture at Source Extraction Arms are used to capture airborne contaminants before the contaminants have a chance to reach the workers' breathing space.
Available in several different designs:
Internally Supported
Externally Supported
Telescopic
Mild or Stainless Steel Construction
Lengths: Up to 45'
2.5" to 8" Diameter's Available
Typically the Extraction Arms are connected to a fixed extraction fan, Filter system or dust collector via direct mounting or a "Header Type" duct system.
For more info, please see the products and associated documentation listed below.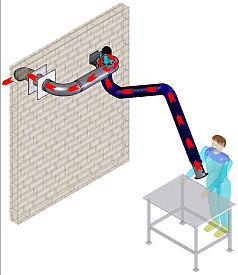 Portable Dust & Fume Filter Units. Quite often "Clean Air" solutions are required throughout a work place. These units can be easily moved from location to location with ease while capturing dust and fumes where needed.
Various Options in Filtering Systems Available:
Washable Filters
Cleanable Filters
Self-Cleaning Systems
Throw Away Filters
All Units equipped with fan/motor assemblies to ensure adequate extraction at all times
For more info, please see the products and associated documentation listed below.