Canopy/Receiving Hoods
Canopy hoods, or exterior hoods, are those which are located above an emission source without enclosing it. Where the contaminant is a smoke, fume, or fine particulate and is not emitted with any significant velocity, the hood orientation is not critical. However, if the contaminant contains large particulates which are emitted with a significant velocity, the hood should be located in the path of the emission. As with welding, the process emits hot contaminated air and rises due to thermal buoyancy.
Solutions forCanopy/Receiving Hoods
(07-01) LEV Overhead Hoods - Smoke - Washable and/or disposable filters - 4'X4' to 12'X20' (flow to suit)**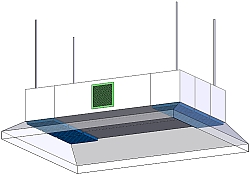 The LEV-Hood is a pre-engineered ventilation hood that completes with filters and fan. This ''Plug & Play'' design is ready to mount as a "free-hanging" system above a welding cell or work table and will collect/filter the smoke, fumes generated from a variety of industrial processes. The cleaned air is then re-circulated to the plant delivering additional energy savings and environmental benefits.
Most Systems can be put in position with minimal mechanical installation time, typical 2 hours/2 men per hood. Electrical motor and lighting connections are also required.
This is an excellent solution when at-the-source capture of pollutants is not possible, practical or convenient. Simply put this is a nice quiet efficient and effective air filtration system.
A high efficiency, 3-stage filtration system. The first stage of filtration is a 2" baffle filter used for spark arrestance. The 2nd stage is a 40% pleated pre-filter that will trap dust and larger particles . The 3rd stage is a 95% micro-glass multi-pocket bag filter that will remove smoke and other sub-micron size particles from the air.
(07-08) Canopy Hoods for CNC Machines
Canopy Hoods are a pre-engineered hood that encloses a CNC or similar machine to allow for the capture of dust and fumes.