Portable Filtration Equipment
Quite often "Clean Air" solutions are required throughout a workplace. Here are numerous systems that can be moved from location to location with ease. All of the systems come with either "Washable", "Self-Cleaning" or "Throw-Away" filters and are equipped with fan/motor assemblies to ensure adequate extraction at all times. We have put the word "Mobile" in brackets as we want to let you know that, even though these solutions may move very well across the shop floor, they may not be the best solution for bringing to the job-site. Please see "Off-Site" portable solutions for more details on these applications.
Solutions forPortable Filtration Equipment
(02-013) Roll-Flex SCF Weld Fume, Dusts & Gases - 700 to 1,400 CFM - 6.5" Ø Extraction Arm* **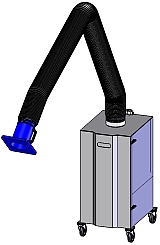 Roll Flex SECF Mobile mechanical filter for welding fumes, grinding dust etc. Compact, flexible and self cleaning. The extraction arm captures fume and dust at a distance of 30-50 cm (12-20'') from the source and within an area of 0.5m (20'') diameter. Black hood w/ optimized airflow & ring handle & built in damper. Flame proof PVC hose 160mm (6.5")Ø. This unit can also be fitted with an activated carbon filter which removes gases from polluted air.
Attachments
001 - Equipment Specification and Dimension Drawings:
(02-09) Mini Flex - (12''L x 13''W x 20''H, 2xØ3 inlet @ 100 CFM) **
Soldering Fume Collector with a (1) 1" Poly Filter, (1) 99.97% HEPA filter, 1" charcoal filter, a 200 Watt motor, 115/1/60Hz (0.85 amps), and Aluminum Hood and 2 - 3" x 42" long hose.
Attachments
001 - Equipment Specification and Dimension Drawings:
(08-01) Fume/Booth - Odors and Lights dusts - 2' X 2' Opening (230 CFM)**
A ductless, portable desktop and bench top system for the removal of fumes, dust, smoke, odors and gases in a compact design.
Attachments
001 - Equipment Specification and Dimension Drawings:
003a - Client Installations - Case Studies with Video:
017 - LEV CAD Blocks (Auto CAD, RVT, SLDPRT):
** Discontinued ** (02-012) Mobi-Downdraft Table
** Discontinued ** The Mobi Down Draft Table is portable cartridge collector with Downdraft table on it, with a capacity up to 800 CFM. This unit is ideal for medium and heavy-duty maintenance or Low to Medium production grinding and most dust producing applications. The standard Unit comes complete with (1) only Clean2® filter cartridge (150ft² of media), manual JET PULSE filter cleaning system, a 1 HP 115/1/60 TEFC motor, centrifugal blower, removable 5 gallon dust drawer, 5" front (fixed) & rear (swivel) casters.
Attachments
001 - Equipment Specification and Dimension Drawings: