Solutions for Portable Filter Units
Portable Filter Units
Compact Portable Dust Collectors
All-in-one portable dust and smoke collector: Convenience and efficiency with a combined filtration unit and source-capture extraction arm
Portable collectors are dust and smoke collection systems with added mobility and maneuverability. As compact smoke and dust collectors, these devices trap dust in the air, filter the air to remove dust and other impurities, and release the clean air back into the atmosphere just as a stationary filter does. Portable dust and smoke collectors are ideal for the collection of smoke, light to heavy dust, and fumes. Compact portable dust collectors provide many advantages in addition to their standard dust collection capabilities: 1. Portable: Easy to move and position 2. Added convenience in the dust collection proces 3. Able to use in several locations no need for power cords or additional equipment 4. Available in a wide range of sizes 5. Added features include the addition of HEPA filters
Multiple configurations suit your needs
Every company requires a different solution for effective collection of the dust and smoke. Each application presents its own unique set of considerations including: 1. Type process 2. Material being welded (processed?) 3. Number of operators working in a given area 4. Duration of time in operation 5. General ventilation of the plant. Portable source-capture filter units can be rolled from workstation to workstation and positioned in the same way a source-capture arm is positioned. They are an excellent solution if you are a contractor and other service personnel and need an off-site air purifier. These portable collectors are easily transported in the back of your van or truck. For plants that require periodic source capture at various locations, a portable collector may be the perfect solution.
Protect your employees from smoke and dust
Potentially hazardous dust and impurities in the air can be a considerable health risk to both you and your employees. Our portable dust and smoke collectors are essential to ensure clean and healthy air and a safe work environment. Additionally, these units can ease allergies by removing irritants in the air, avoid fires or dust explosions, and prevent damage to important machinery or equipment in the workplace. Purchase your portable dust and smoke collector and avoid employee health related workplace issues, keeping a safe and healthy work environment.
(02-013) Roll-Flex SCF Weld Fume, Dusts & Gases - 700 to 1,400 CFM - 6.5" Ø Extraction Arm* **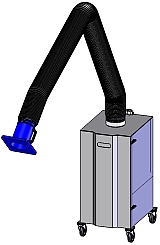 Roll Flex SECF Mobile mechanical filter for welding fumes, grinding dust etc. Compact, flexible and self cleaning. The extraction arm captures fume and dust at a distance of 30-50 cm (12-20'') from the source and within an area of 0.5m (20'') diameter. Black hood w/ optimized airflow & ring handle & built in damper. Flame proof PVC hose 160mm (6.5")Ø. This unit can also be fitted with an activated carbon filter which removes gases from polluted air.
Attachments
001 - Equipment Specification and Dimension Drawings:
** Duplicate** (08-99)LEVFB
A ductless, portable desktop and bench top system for the removal or fumes, dust, smoke, odors and gases in a compact design.