Back & Side Draft Systems
Back and Side Draft Tables are similar to Down-Draft Tables. "Back Draft" and "Cross Draft" are ideal solutions when extraction methods such as self-supporting extraction arms and other such systems prove to be inappropriate for the application.The contaminated air is drawn in from the back or side panels of the work area. These units come with or without filtration systems and can also be combined to create complete enclosures for whatever the application might be
Some important points to consider when purchasing:
What is the velocity or the air required to pull the fumes and dust horizontally into the table? (Capture Velocity: Add up the CFM for all of the inlets that will run at once)
What velocity at the Table surface is required to achieve the appropriate Capture Velocity? (Face velocity)
Do I have enough filter media in the collector? (Air to cloth ratio)
Will it stand up to the working environment (Eg: is it made from Plastic or Steel?)
Filter cleaning: Does the filter cleaning system really work in your application?
What will be my filter maintenance and energy costs per year?
Are there any tertiary risks such as fire, explosion, etc., that I need to consider?
For more info, please see the products and associated documentation listed below.
Solutions forBack & Side Draft Systems
(06-04) Panel Filter Power Booth Modules (size/flow to suit)**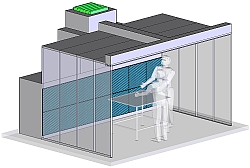 5500 CFM free standing Panel filter collector packed into a 2' x 4' footprint is a complete dust collection system, standard with (12) MERV11 24x24x6 filters (42 sq. ft. each).
It can be used as stand alone unit or as part of an expandable dust control booth.
(06-05) PB Back Draft Modules - Dust - Self cleaning filter system built in - 4' X 4' BD Hood (5,000 CFM/module)**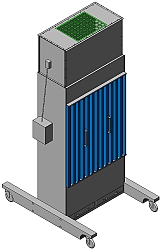 A free standing Dust Control Booth with 6 Clean 2® cartridge filters, dual dust drawers, slotted inlet hood, 5 HP 208-230/460/575/3/60hz motor with non-sparking AMCA Type B wheel, Vibra-Pulse® cleaning.
Attachments
001 - Equipment Specification and Dimension Drawings:
003 - Client Installations - Case Studies with Photos:
017 - LEV CAD Blocks (Auto CAD, RVT, SLDPRT):
(06-06) Back Draft Hoods & Booths - Sizes and flowrates to suit **